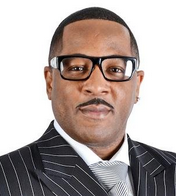 Dr. Lance London
Restaurant Chain Owner/Founder of National Marketing Firm/Motivational Speaker/National Trainer
Dr. London chose Robert Headen Video to capture the launch of his new pet consulting company NéVetica. All of this was derived from a tragic incident that happened to a special dog named Rocky. Rocky was the beloved pet of NéVetica's CEO Dr. Lance London. Through a tragic, turned triumphant experience, Dr. London was inspired to create NéVetica, Your Pet's Choice.
A little over 2 years ago, Dr. London arrived home and found Rocky lifelessly laying on his garage floor . After rushing him to the veterinarian, he discovered that Rocky had a massive, life-threatening stroke. The prognosis was grim and the veterinarian advised Dr. London to put Rocky down. Rocky had been a part of Dr. London's life for 17 years at the time of his stroke, so it was vital to Dr. London that every effort be made to save Rocky's life. Dr. London started researching every available option to improve a pet's health and quality of life. His research led him to the raw food diet. He quickly adopted this lifestyle for Rocky, and over time he started to see improvement.
While Rocky never fully recovered from the stroke, he did live for another 2 years with some quality of life. This of course meant everything to Dr. London. When the stroke first happened, Rocky was barely able to walk. After being on the raw food diet and taking nutraceuticals for some time, he became more mobile and active. Seeing Rocky improve prompted Dr. London to further research the pet industry. He quickly realized the pet industry was not only recession proof, but that it was also a great market to tap into because of peoples' love for their pets.
Pet owners comprise 70% of American households, and the pet industry has seen steady growth for the last 18 years. This gave Dr. London the vision and motivation that he needed to start the company that you know today. The goal was simple; to educate pet parents on the best ways to care for their pets, and to bring quality products to the market place. We also recognize that in today's world, everyone wants convenience. That's why we designed our app and website to cater to that need. We've created the ultimate pet portal for innovative products, services, and quality pet educational resources. Simply put, we are the one stop shop for all of your pet's needs. One man's love for his dog inspired a movement to change the way that we care for our pets.